FLIM FLAM PRODUCTIONS
RECORDS

Independent label: Flim Flam Productions Former Address: Unit 251 Lomond Grove Camberwell London SE5. The Band of Holy Joy was formed in 1984 by Johny Brown in in a New Cross squat, South London, and initially active between 1984 and 1993. The Beloved are an English electronic dance music group. Formed in November 1984 when Guy Gausden joined Journey Through, the trio previously formed by Jon Marsh, Steve Waddington and Tim Harvard. The group renamed itself to "The Beloved" and evolved towards a dance sound quite similar to New Order.
By 1987 the band was reduced to a duo after Harvard and Gausden had left. After releasing "Happiness" and its sister remix album "Blissed Out" in 1990 they returned in 1992, by which time Waddington had been replaced by Jon's wife: Helena Marsh. Distributed By Pinnacle Records.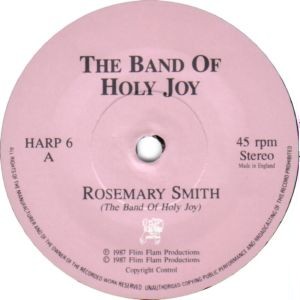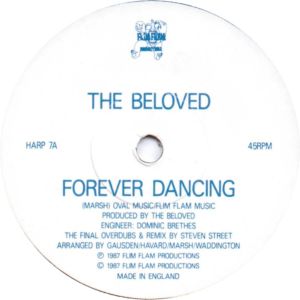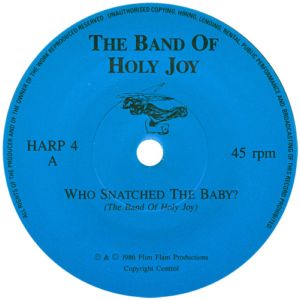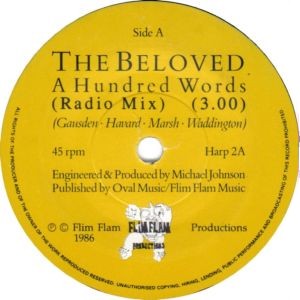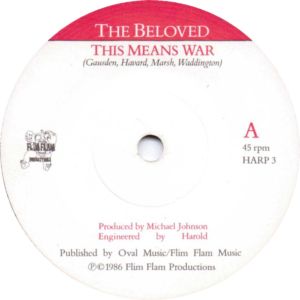 | | | | | | |
| --- | --- | --- | --- | --- | --- |
| 85 | Band Of Holy Joy | Had A Mother Who Was | FLIM FLAM PRODUCTIONS | HARP | 1 |
| 86 | Beloved | A Hundred Words | FLIM FLAM PRODUCTIONS | HARP | 2 |
| 86 | Beloved | This Means War | FLIM FLAM PRODUCTIONS | HARP | 3 |
| 86 | Band Of Holy Joy | Who Snatched The Baby | FLIM FLAM PRODUCTIONS | HARP | 4 |
| 87 | Beloved | Happy Now | FLIM FLAM PRODUCTIONS | HARP | 5 |
| 88 | Band Of Holy Joy | Rosemary Smith | FLIM FLAM PRODUCTIONS | HARP | 6 |
| 88 | Beloved | Forever Dancing | FLIM FLAM PRODUCTIONS | HARP | 7 |
| 88 | Not Traced | | FLIM FLAM PRODUCTIONS | HARP | 8 |
| 88 | Tot | Filthy | FLIM FLAM PRODUCTIONS | HARP | 9 |
| 88 | Brain Of Morbius | Kill Your Neighbour | FLIM FLAM PRODUCTIONS | HARP | 10 |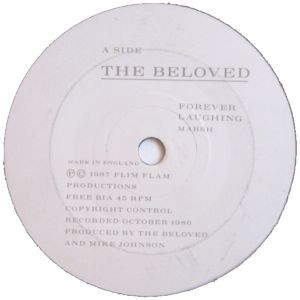 | | | | | | |
| --- | --- | --- | --- | --- | --- |
| 87 | Beloved | Forever Laughing 7" Demo E.P | FLIM FLAM PRODUCTIONS | FREE | B1 |