I.R.S
RECORDS

Independent label: I.R.S. (International Record Syndicate) was formed in 1979 by Miles Copeland as an American version of a group of punk & new wave labels that he operated in the UK under the umbrella name Faulty Products (a name that he later used for an I.R.S. sub-label in the US).
Initially distributed by A&M Records, I.R.S. moved distribution to MCA Records in 1985, and to Enigma Records in 1990. Some I.R.S. releases were issued for the UK and continental Europe through Copeland's label Illegal Records. Copeland also established local I.R.S. offices in conjunction with his Illegal divisions in those countries. I.R.S. was closed down in 1996, and in 1997 Copeland formed a new label, Ark 21 Records.
Distributed By A&M Records [1979-85] MCA Records [1985-90] EMI Records [1990-96].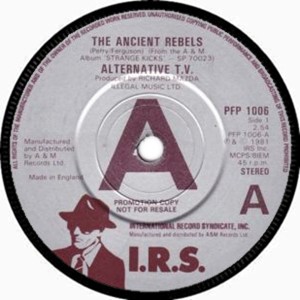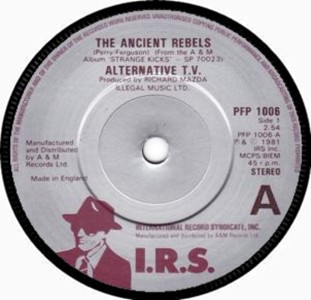 | | | | | | |
| --- | --- | --- | --- | --- | --- |
| 81 | Payolas | China Boys | IRS | PFS | 1001 |
| 81 | Oingo Boingo | Only A Lad | IRS | PFS | 1002 |
| 81 | Champs | Goo Goo Muck | IRS | PFS | 1003 |
| 81 | Fleshtones | Girl From Baltimore | IRS | PFS | 1004 |
| 81 | Not Traced | | IRS | PFS | 1005 |
| 81 | Alternative Tv | The Ancient Rebels | IRS | PFS | 1006 |
| 81 | Go-Go'S | Our Lips Are Sealed | IRS | PFS | 1007 |
| 81 | Champs | The Crusher | IRS | PFS | 1008 |
| 81 | Alternative Tv | Communicate | IRS | PFS | 1009 |
| 81 | Go-Go'S | We Got The Beat | IRS | PFS | 1010 |
| 81 | Not Traced | | IRS | PFS | 1011 |
| 82 | Fleshtones | Shadow Line | IRS | PFS | 1012 |
| 82 | Not Traced | | IRS | PFS | 1013 |
| 83 | Alarm | The Stand | IRS | PFS | 1014 |
| 83 | Lords Of New Church | Live For Today | IRS | PFS | 1015 |
| 83 | Renaissance | Richard Ix | IRS | PFS | 1016 |
| 83 | R.E.M. | Radio Free Europe | IRS | PFS | 1017 |
| 83 | Fleshtones | Right Side Of A Good Thing | IRS | PFS | 1018 |
| 83 | Animals | Night | IRS | PFS | 1019 |
| 83 | Holland Jools | Crazy Over You | IRS | PFS | 1020 |
| 83 | Not Traced | | IRS | PFS | 1021 |
| 83 | Lords Of New Church | Dance With Me | IRS | PFS | 1022 |
| 83 | Alarm | 68 Guns | IRS | PFS | 1023 |
| 83 | Fleshtones | Screaming Skull | IRS | PFS | 1024 |
| 83 | Not Traced | | IRS | PFS | 1025 |
| 83 | R.E.M. | Talk About The Passion | IRS | PFS | 1026 |
| 83 | Torch Song | Prepare To Energise | IRS | PFS | 1027 |
| 83 | Oliver Valerie | Get The Money | IRS | PFS | 1028 |
| 83 | Crown Of Thorns | Pictures | IRS | PFS | 1029 |
| 83 | Animals | Love For All Times | IRS | PFS | 1030 |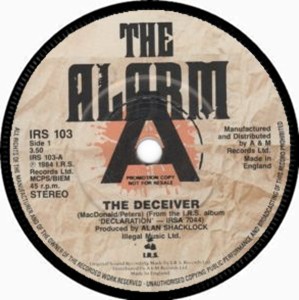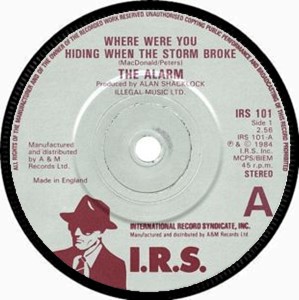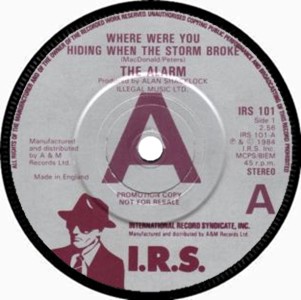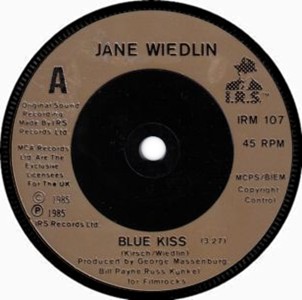 | | | | | | |
| --- | --- | --- | --- | --- | --- |
| 84 | Alarm | Where Were You Hiding | IRS | IRS | 101 |
| 84 | Mazda Richard | Last Week This Week | IRS | IRS | 102 |
| 84 | Alarm | The Deceiver | IRS | IRS | 103 |
| 84 | Go-Go'S | Head Over Hhel | IRS | IRS | 104 |
| 84 | R.E.M. | Central Rain | IRS | IRS | 105 |
| 84 | Raise The Dragon | Blue Murder | IRS | IRS | 106 |
| 84 | R.E.M. | Rockville | IRS | IRS | 107 |
| 84 | Holland Jools | Black Beauty | IRS | IRS | 108 |
| 84 | Crown Of Thorns | Diamond Jim | IRS | IRS | 109 |
| 84 | Torch Song | Don'T Look Now | IRS | IRS | 110 |
| 84 | Disconnection | We Love You | IRS | IRS | 111 |
| 84 | Not Traced | | IRS | IRS | 112 |
| 84 | Lords Of New Church | M Style | IRS | IRS | 113 |
| 84 | Alarm | Chant Has Just Begun | IRS | IRS | 114 |
| 84 | Truth | Exception Of Love | IRS | IRS | 115 |
| 84 | Wall Of Voodoo | Big City | IRS | IRS | 116 |
| 85 | Torch Song | Ode To Billy Joe | IRS | IRS | 117 |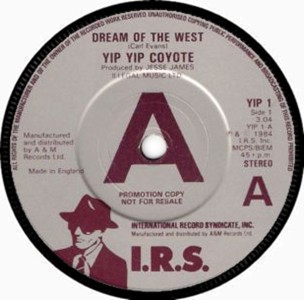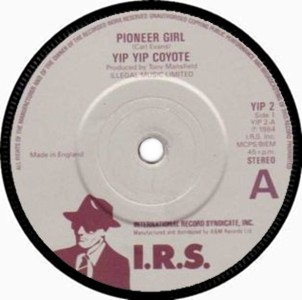 | | | | | | |
| --- | --- | --- | --- | --- | --- |
| 84 | Yip Yip Coyote | Dream Of The West | IRS | YIP | 1 |
| 84 | Yip Yip Coyote | Pioneer Girl | IRS | YIP | 2 |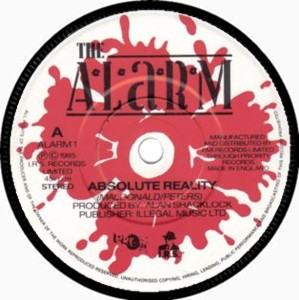 | | | | | | |
| --- | --- | --- | --- | --- | --- |
| 85 | Alarm | Absolute Reality | IRS | ALARM | 1 |
| 90 | Alarm | Unsafe Building 1990 | IRS | ALARM | 2 |
| 91 | Alarm | Raw | IRS | ALARM | 3 |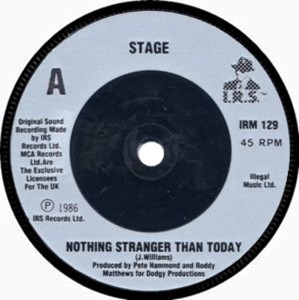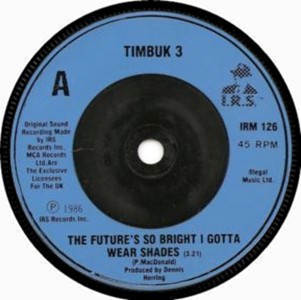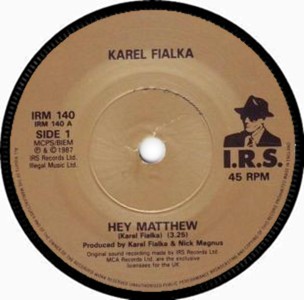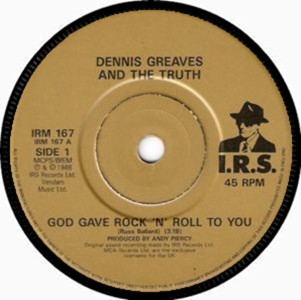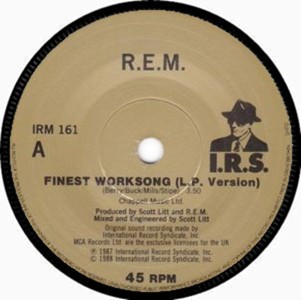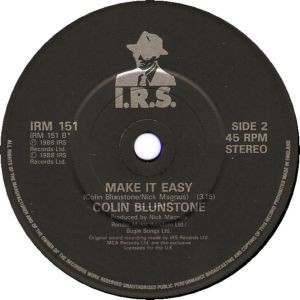 A FULL DISCOGRAPHY OF THE IRS IRM SERIES 1985-1991 CAN BE FOUND HERE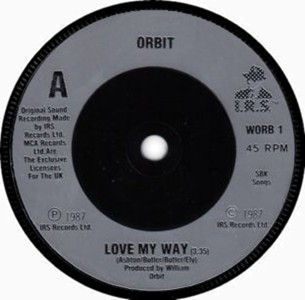 | | | | | | |
| --- | --- | --- | --- | --- | --- |
| 87 | Orbit | Love My Way | IRS | WORB | 1 |
| 87 | Orbit | Feel Like Jumping | IRS | WORB | 2 |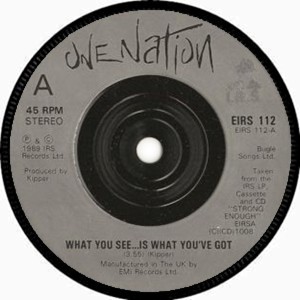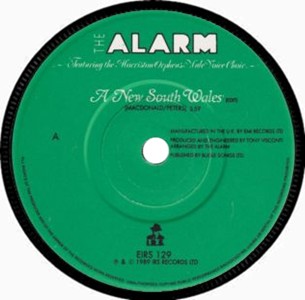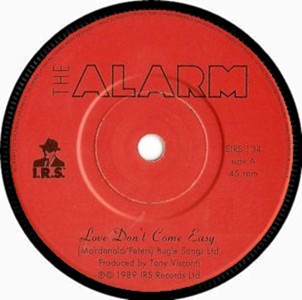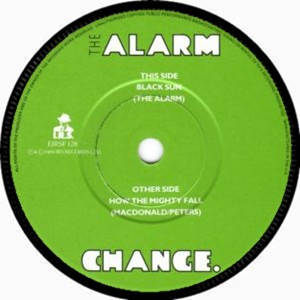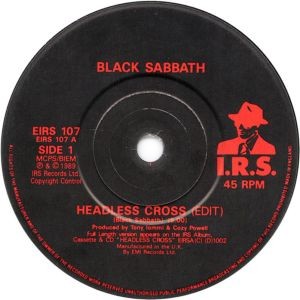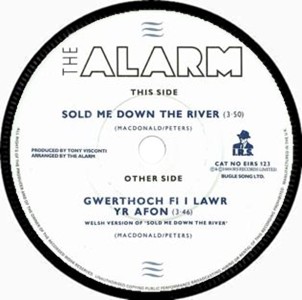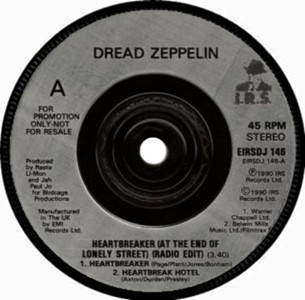 A FULL DISCOGRAPHY OF THE IRS EIRS SERIES 1989-1995 CAN BE FOUND HERE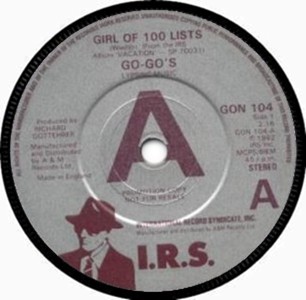 | | | | | | |
| --- | --- | --- | --- | --- | --- |
| 82 | Go-Gos | Automatic | IRS | GON | 101 |
| 82 | Go-Gos | Our Lips Are Sealed | IRS | GON | 102 |
| 82 | Go-Gos | Vacation | IRS | GON | 103 |
| 82 | Go-Gos | Girl Of 100 Lists | IRS | GON | 104 |