RECORDS OF ACHIEVEMENT
RECORDS

Independent label: The Planet Wilson were an indie rock band from Hull that were signed to Virgin Records and released two albums in the late 1980s. Two of the former Red Guitars band members, Hallam Lewis and Lou Howard, formed the band after the Red Guitars split up in 1985. They were joined by Grant Ardis on drums. Lou Howard was on bass and Hallam Lewis was on guitar & vocals. In 1988 they released the album In the Best of All Possible Worlds (on Virgin records), and in 1989 they released the album Not Drowning but Waving (on Records of Achievement),
Hallam later ran his own recording studio in Hull. Distributed By Records of Achievement.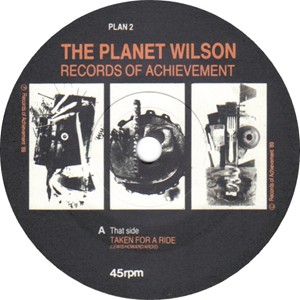 | | | | | | |
| --- | --- | --- | --- | --- | --- |
| 89 | Planet Wilson | Fly By Night | RECORDS OF ACHIEVEMENT | PLAN | 1 |
| 89 | Planet Wilson | Taken For A Ride | RECORDS OF ACHIEVEMENT | PLAN | 2 |