VINDALOO
RECORDS

Independent label: Vindaloo Records Label founded by Robert Lloyd. Vindaloo Records Formed in 1979 and Closed in 1987. Former Address: P.O. Box 235 Birmingham B12 9RZ.
Terry and Gerry was a pop band formed in the early 1980ís by Terry Lilley and Gerry Colvin in Birmingham, UK. Unusually for the time the band was based on a skiffle sound making use of a washboard for percussion instead of a drum kit. Terry Lilley played double bass. Gerry Colvin sang lead vocals and played acoustic guitar.
The Nightingales are a British punk/alternative band formed in 1979 in Birmingham, England. Original members were Robert Lloyd (vocals), Joe Crow on guitar, Eamonn Duffy on bass and Paul Apperley on drums, all formerly of The Prefects. The band, before splitting up, played more sessions on John Peel's BBC Radio 1 show than any other band excluding The Fall.
Ted Chippington (born 1962) Born Francis Smyth in Birmingham, Ted started performing in 1981 under the name "Eddie Chippington" before changing to Ted "due to maturity and baldness". He first came to national prominence when a gig he had performed in Birmingham in 1984 supporting The Fall (his favourite band)
Distributed By Rough Trade, Wea Records and The Cartel.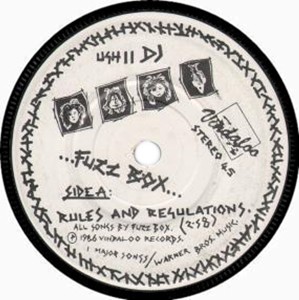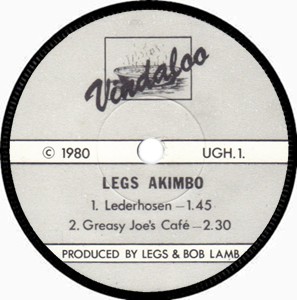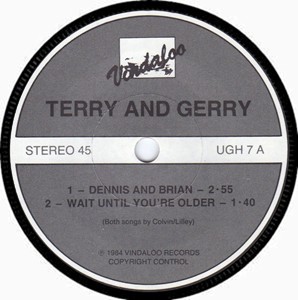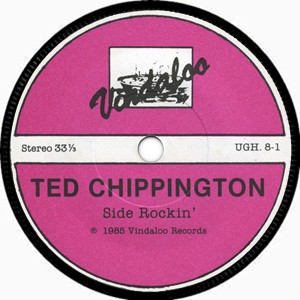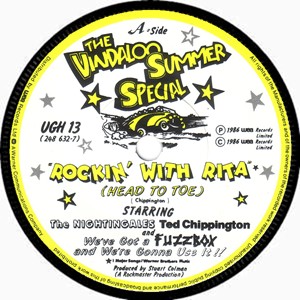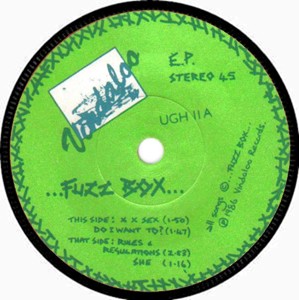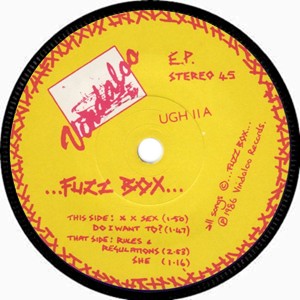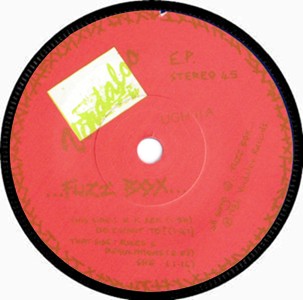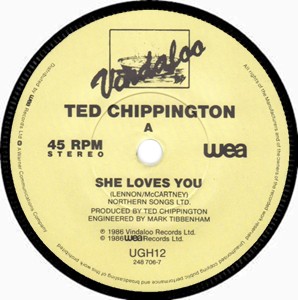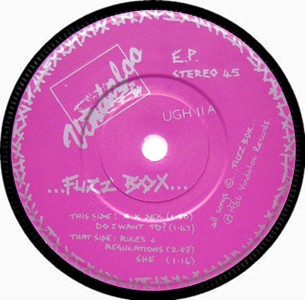 | | | | | | |
| --- | --- | --- | --- | --- | --- |
| 80 | Legs Akimbo! | Lederhosen | VINDALOO | UGH | 1 |
| 80 | Prefects, | The Going Through The Motions | VINDALOO | UGH | 2 |
| 80 | Janet And Johns | I Was A Young Man | VINDALOO | UGH | 3 |
| 80 | Nightingales | Idiot Strength | VINDALOO | UGH | 4 |
| 81 | Legs Akimbo & Titanics | Land Of The Bearded Cricketers [ Ep ] | VINDALOO | UGH | 5 |
| 81 | The Gales | Use Your Loaf (Not Issued) | VINDALOO | UGH | 6 |
| 84 | Terry & Jerry | Butlers On The Bread [ Ep ] | VINDALOO | UGH | 7 |
| 85 | Chippington Ted | Non Stop Party Hits | VINDALOO | UGH | 8 |
| 85 | Nightingales | It'S A Cracker | VINDALOO | UGH | 9 |
| 86 | Bob & Vi | Keep Lyning I Love It | VINDALOO | UGH | 10 |
| 86 | We'Ve Got A Fuzz Box | Xx Sex | VINDALOO | UGH | 11 |
| 86 | Chippington Ted | She Loves You | VINDALOO | UGH | 12 |
| 86 | Vindaloo Summer Special | Rockin' With Rita | VINDALOO | UGH | 13 |
| 86 | We'Ve Got A Fuzz Box | Love Is The Slug | VINDALOO | UGH | 14 |
| 87 | Chippington Ted | The Wanderer | VINDALOO | UGH | 15 |